A wonderful article of my work can be found in the latest copy of the Kitchener Record – Newspaper
http://www.therecord.com/news-story/4380685-the-artistic-evolution-of-hockey-s-masked-men/
The artistic evolution of hockey's masked men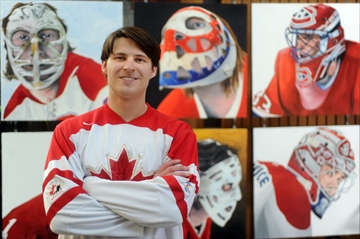 Of masks and men
David Bebee,Record staff
Artist Micheal Slotwinski stands in front of his paintings of NHL goalies and their masks that were on display Saturday in the Kitchener City Hall rotunda as part of Hockey Town celebrations.
KITCHENER — You have to wonder — is this the most Canadian art ever?
Think hockey, think goalies, think masks. Remember the earliest handmade goalie masks, moulded over scarred faces, tribal and monsterlike? Hollywood stole the look to decorate horror villains like Jason.
Now look to today's modern goalie masks, sleek and mass-produced, yet highly decorated.
Perhaps you look at a hockey mask and see just the player behind it. Artist Michael Slotwinski also sees personality, culture and fans.
"I decided to redo these masks and do them up big," he said. "It forces the viewer to see why these goalies wore these masks. You can see that they went through a lot. They're battle-scarred."
Saturday, Slotwinski put his oil paintings on display inside Kitchener City Hall. The exhibit called Hockey's Masked Men was part of the annual Hockey Town celebration by Kitchener Minor Hockey.
"It looks at the evolution of the mask, structurally and artistically, as it's changed throughout the past 50 years," he said.
There's Jacques Plante, the first goalie to regularly wear a mask in the NHL. There's Ken Dryden. Goalie stars of today include Roberto Luongo and Carey Price, both of Team Canada fame.
Other goalies you may remember include Grant Fuhr, Andy Moog, Tony Esposito, Martin Brodeur, Terry Sawchuk, Patrick Roy, Gerry Cheevers, Dominik Hasek and Jim Rutherford.
Slotwinski, 24, graduated from the University of Guelph and is based in Sarnia. He works from photographs, from other research, and from real masks displayed at the Hockey Hall of Fame.
Yes, his paintings are for sale. You can find him online at slotsartstudio.com