Another fantastic news article about my artwork, this time from the London Community News:
http://www.londoncommunitynews.com/sports-story/1489504-hockey-s-masked-men-hits-bud-gardens/
Hockey's Masked Men hits Bud Gardens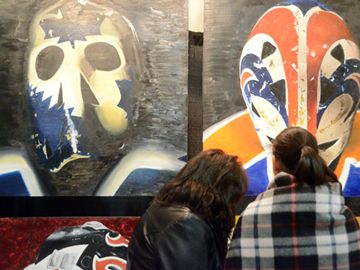 Photo : Jonathon Brodie
Some people at the London Knights game on Tuesday (Jan. 1) stop to check out some of the oil paintings in Michael Slotwinski series titled Hockey's Masked Men. Shown here is (left) Toronto Maple Leafs Mike Palmateer and (right) Edmonton Oilers Grant Fuhr.
London Community News by Jonathon Brodie
European art went from the Medieval period, to the Renaissance and over to Romanticism. The evolution of the goalie mask has changed from the Jason Voorhees style, to the helmet/cage combination to the modern day fiberglass and Kevlar mix.
Sarnia artist Michael Slotwinski has been taking his oil paintings of goalies-past across the province to different arenas in the Ontario Hockey League (OHL) in a series called Hockey's Masked Men.
Every goalie's mask tells a story with each having a unique design. Ed Belfour's helmet had an eagle to reflect his nickname and Kelly Hrudey had the Hollywood sign painted on his to better show his Los Angeles Kings ties.
Each of Slotwinski's artwork does more than just show a goalie mask, though. The hallowed out eyes of Toronto Maple Leafs Mike Palmateer is almost haunting and the blacked out background behind Edmonton Oilers Grant Fuhr with his head down illustrates the netmider's deep focus.
"These have a story behind the player, a story behind the mask, the development of how the mask has evolved throughout time and there's just so many different levels," Slotwinski said of his painting series originally starting out as a university project.
You don't have to be an art aficionado to appreciate Slotwinski's work, you just have to appreciate the sport of hockey.
With Patrick Roy wearing his Montreal Canadiens helmet next to the stitched up mask of Boston Bruins Gerry Jeevers, the paintings connect parents with their children and the sports trivia buffs with the budding enthusiasts.
"The best reaction is the little children who come up with gaping mouth and eyes wide," Slotwinski said. "Then you have the older generation pointing out to their buddy's saying, 'Oh yeah, I can name that guy,' and 'Oh that one's good'."
On Tuesday (Jan. 1) it was people at Budweiser Gardens chance to see the 12 masked artworks on display in an arena where a painted canvass doesn't usually go further than a fan's face.
The people at the downtown arena were interested, with thousands of fans stopping to pepper Slotwinski with questions of hockey and art and forcing the 23 year old to hand out more cards than an Upper Deck salesman.
"You go to an art gallery and lets say that maybe 50 people see your stuff and they're not necessarily hockey fans," Slotwinski said. "If I come to a hockey arena like this you get thousands and thousands of people coming all at once and they all love it. That's my audience, that's my target right there and it's successful so far."
Slotwinski will continue his OHL tour in St. Catharine's on Jan. 18 and Brampton Feb. 10. To see more photos of his work, visit www.slotsarstudio.com.
Make sure you also haven't missed the other article posted about me in the blog previous to this (London Metro News)